Mishmash Zines is a zine production studio run by three huge zine geeks and enthusiasts who are dedicated to creating high quality produced zines for a wide range of fandoms.We believe in integrity, and bringing our expertise and proven successful track record to this studio, as names you can trust in the zine scene.
Mishmash Zines was founded by Yabakuboi and MagnusTesla in December 2020, with AtlassArts joining the team in June 2022. As massive zine enthusiasts, and even bigger fandom geeks, they decided to turn their passion for the zine creation process and their love of fandom into something productive, something that would bring joy to others. Read more about them and their experience below!
---
Yabakuboi | She/They/He
Yaba is an American graphic designer and writer that has always been deeply in love with fanworks and fandom creators since she was old enough to turn on a browser. She is an avid fanfiction reader, occasionally a writer, and a tattoo collector with an empty wallet. All her professional work goes to funding a good life for her cat, Piper, her pride and joy and annoyance. Please don't ask her when she's going to update a fic, she has no idea.
---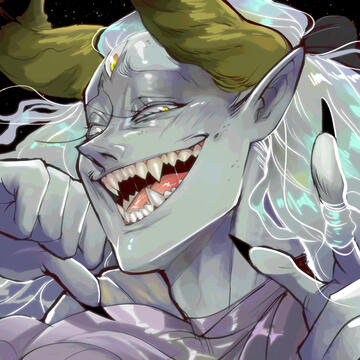 MagnusTesla | They/Them, Xe/Xem
Magnus is a thirty-something, non-binary transmasc eldritch overlord, masquerading (terribly) as a human bean. They have a passion for spreadsheets and organisation in fandom events and zines, though they wish it would extend to being organised irl. In their spare time, Magnus loves to garden, hack up monsters on the PS4, crochet, and collect variant comic covers. They have 2 adorable gremlins cats who both seek to drive Magnus absolutely insane with the never-ending storm of fur everywhere.
---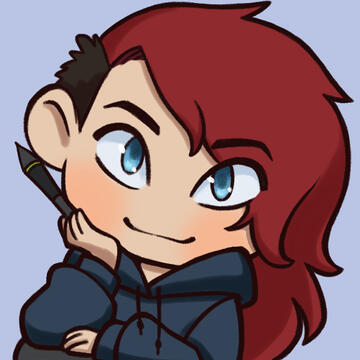 AtlassArts | She/Her
Atlass hates writing bios is a professional graphic designer/illustrator who enjoys drawing fictional characters. She has been working in graphic design & layout for 8+ years and most recently has become obsessed with modding zines. She loves tea & is perpetually covered in cat hair.
Yaba, Magnus, and Atlass have worked on a couple of projects together, as well as some with other teams, which you can see below.
Zines Founded Together:
---
* Denotes a project that is a private, friend invite only (meaning no applications were hosted), and will be released to the public as a free digital zine after creation is complete.
---
Yaba's Zine Experience:
---
Magnus' Zine Experience:
---
Atlass' Zine Experience:
• Feb 2022: The Gojou Dessert Cookbook: Pour Some Sugar On Me• May 2022: Genshin Impact Pin-Up Calendar• Sept 2022: NanaGo Artbook (Postponed until 2023)
Our current projects are The Dawn of Spring: A MXTX Zine, The Gojou Dessert Book: Pour Some Sugar On Me, and Vaporise: A Genshin Pin-Up Calendar-- all of which are currently staggered in different phases of creation. Please check out the information below and links to their respective socials!
---
The Dawn of Spring is a P4P fanzine focused on the theme of spring flowers for all 3 of MXTX's works: Mo Dao Zu Shi, Heaven Officials Blessing, and Scum Villian Self Saving System. This zine will include fanfic, fanart, and merch items surrounding the theme of spring flowers. Set to be produced and shipped by Spring 2022.
---
The Gojou Dessert Book: Pour Some Sugar On Me is a fandom zine that will include fanart, fanfic, recipes, and several merch items, surrounding the theme of sweet food and our favourite chaotic man, Gojou Satoru. Set to be produced and shipped in Fall 2022.
---
Vaporise: A Gensin Pin-Up Calendar is an 18+ project, featured around our fave Teyvat hotties. The project is for the creation of 2 calenders: one for the guys and one for the girls, and will include several merch items. Set to be produced and shipped by December 2022.
Need to get in touch? You can contact us on Twitter, Retrospring, or email at [email protected]Please follow our Twitter to keep up-to-date on upcoming zine projects!